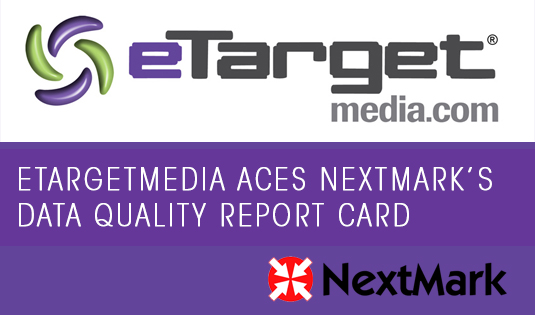 Choosing the right data card is critical to the success of a direct marketing campaign. A high quality data card ensures that your message will reach the right customers. eTargetMedia has established a reputation for having top-shelf data cards across a variety of demographic and vertical markets. This was recently highlighted when it received a perfect score of 100 in NextMark's Data Quality Report Card.
eTargetMedia was one of only six companies in its category to receive a perfect score. NextMark's reviewed more than 74,000 data cards to create their rankings. They ranked data cards using a proprietary algorithm evaluating 13 different characteristics. These attributes include frequency of updates, breadth of geography, efficient categorization, size of list and base price.
Data cards are the main way that advertising and marketing professionals evaluate the quality of a mailing list that is available for purchase or rental. It includes all of the information that a person would need to make an evaluation including the pricing, description of the types of contact included, source, permission level and how often it is maintained. Depending on the mailing list, it can also include specialized information such as the minimum number of records required in order to place an order.
eTargetMedia's data cards give people a clear understanding about the quality of the mailing lists we have available. We only use truly permission-based email lists, which ensure that your recipients are engaged and ready to receive information about products and services such as yours. The depth of categorization in our lists allows marketers to target specialized segments in order to get to exactly the right customers.